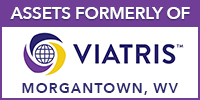 Don't miss our upcoming auction, the fifth in a series of major auctions featuring solid dose processing, packaging, and lab equipment formerly of Viatris' Morgantown, WV site! The auction will take place September 6-8, 2022.
Sale Information:
Location: Morgantown, WV
Sale Held In Conjunction With: Heritage Global Partners and Surplus Solutions
Bid Online: September 6-8, 2022
Preview: By Appointment Only
Sale Conducted In: $USD / 18% Buyers Premium
Contact: Adam Covitt: adam@fedequip.com – 216.536.0312
Asset Highlights:
90+ Nilfisk 118 Industrial Vacuums
50+ Mettler Toledo LV1 Automatic Feeders
50+ Mettler Toledo Analytical Balances & Scales
15+ LSI Pressure Washers
30+ Varian and VanderKamp VK200 Hardness Testers
10+ Waters 2695 HPLC Systems
Fitzpatrick Comminutor D6A Hammermill
Stainless Steel Tables, Wire Shelving and Carts!
And More!