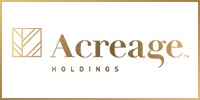 Don't miss our upcoming auction featuring quality production equipment surplus to the ongoing operations of Acreage Holdings, a leader in cannabis cultivation and production. The auction will take place November 16-17, 2020.
Sale Information:
Sale Held In Conjunction With: Heritage Global Partners
Bid Online: November 16-17, 2020
Preview: By Appointment Only
Sale Conducted In: $USD / 18% Buyers Premium
Contact: Adam Covitt: 216.536.0312 | adam@fedequip.com
Key Assets:
Complete Beverage Canning Liquid Line (Never Used)!
SaintyCo Aprila SG50 Soft Gel Encapsulation Line (Never Used)!
Absolute Unit Soft Gel Machine
Complete Acasi Beverage/Liquid Line
Paul O. Abbe RB-10 Ribbon Blender
Absolute Unit 400L Jacketed Tank
Absolute Unit 200L Jacketed Tank
(2) Manesty Beta Tablet Press
Microfluidics LM10
King Tablet Sorter
CapPlus Insight PH Tablet Counter
(2) Agilent X3815-6400 Dry Vacuum Pump
Hobart 140 Quart Floor Mixer
and Much More!