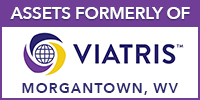 Don't miss our upcoming auction, the fourth in a series of major auctions featuring solid dose processing, packaging, and lab equipment formerly of Viatris' Morgantown, WV site! The auction will take place June 28-29, 2022.
Sale Information:
Location: Morgantown, WV
Sale Held In Conjunction With: Heritage Global Partners and Surplus Solutions
Bid Online: June 28-29, 2022
Preview: By Appointment Only
Sale Conducted In: $USD / 18% Buyers Premium
Contact: Adam Covitt: adam@fedequip.com – 216.536.0312
Asset Highlights:
Fette, Manesty & Hata Presses
MG2 Capsule Filler
Romaco Index Capsule Filler
Fuji Paudaul LCI Spheronizer Suite
Bossar Sachet/Pouch Filler
Ackley Inspection Machines
Ackley Feed Hoppers
Vector Rotor Inserts
CEIA Metal Detectors
Precision Tool Tablet Dedusters
Nilfisk Dust Collectors
Mettler Toledo Vibratory Feeders
Tool & Parts Cabinets
And More!