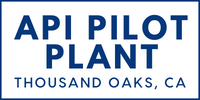 Don't miss our upcoming auction featuring state-of-the-art API/small molecule manufacturing equipment! The auction will take place June 27-28, 2022.
Sale Information:
Location: Thousand Oaks, CA
Sale Held In Conjunction With: Heritage Global Partners
Bid Online: June 27-28, 2022
Preview: By Appointment Only
Sale Conducted In: $USD / 18% Buyers Premium
Contact: Adam Covitt: adam@fedequip.com – 216.536.0312
Asset Highlights:
Isolator with Filter Dryer
Kilo Lab Reactors (Qty. 6)
Kaiser Optical System, Huber Unistat 705 Temperature Control Unit with glass reactor and cart
Tolan System with Flanders Bag-in/Bag-out Filter Housing
Parr 4557 Reactor System
Hastelloy A20-C Tank
Hastelloy A20-S Tank
G.S. Stainless Stainless Steel Process and Sample Tanks (Qty. 12)
Millipore Mobius System
Varian Load and Lock Column Packaging Station
DCI Reactor System
Stainless Steel Containment Isolator
Processing Skids
Glass Reactors
Buchi Rotovapors
And More!