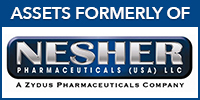 Don't miss our upcoming auction, the second in a series of major auctions featuring state-of-the-art manufacturing and packaging equipment from Nesher's Bridgeton, MO facility! The auction will take place June 21-22, 2022.
Sale Information:
Location: Bridgeton, MO
Sale Held In Conjunction With: Heritage Global Partners, Keith Machinery, and New Mill Capital
Bid Online: June 21-22, 2022
Preview: By Appointment Only
Sale Conducted In: $USD / 18% Buyers Premium
Contact: Adam Covitt: adam@fedequip.com – 216.536.0312
Asset Highlights:
(5) Glatt and Vector Fluid Bed Dryer/Wurster Coaters
(3) Korsch XL400/XL200 and CCS/Stokes Tablet Presses
Thomas Flex 200 Automatic Interchangeable 48″/36″ Tablet Coater
(2) Tote Systems and CPS Column/Tote Blenders
Patterson Kelley Twin Shell Blender
(7) Fitzpatrick Fitzmills and Quadro Comils
(3) Bosch 2500 and 2000 Capsule Fillers
(3) Anritsu Automatic Capsule Checkweighers
(2) Ackley Laser Drill And Printer
(2) Automatic Solid Dose Serialized Packaging Lines
Uhlmann eB-350 Blister Machine
ACG Hicart Plus Blister and Bottle Cartoner
Capmatic Patriot Monoblock Filler
And More!