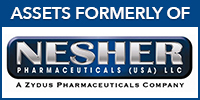 Don't miss our upcoming auction, the first in a series of major auctions featuring state-of-the-art manufacturing and packaging equipment from Nesher's Westport, MO facility! The auction will take place April 26-27, 2022.
Sale Information:
Location: St. Louis, MO
Sale Held In Conjunction With: Heritage Global Partners, Keith Machinery, and New Mill Capital
Bid Online: April 26-27, 2022
Preview: By Appointment Only
Sale Conducted In: $USD / 18% Buyers Premium
Contact: Adam Covitt: adam@fedequip.com – 216.536.0312
Asset Highlights:
(3) Korsch XL400 Tablet Presses
(2) Korsch XL400 2S Bi Layer Tablet Presses
(1) Generac 750 kW "Gemini 750" Diesel Generator with 1,000 gallon tank
(2) Thomas 48′ Automatic Coating Systems
(2) Tote Systems and CPS Column/Tote Blenders
Fitzpatrick Roller Compactor/Chilsonator
Diosna P400 High Shear Granulator
Despatch Truck Granulation Drying Oven
(3) Twin Shell and Conical Blenders
(3) Fitzpatrick Fitzmills
Automatic Liquid Packaging Line
Unused Countec Multi-Head Rotary Capper
And More!