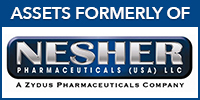 Don't miss our upcoming auction, the third in a series of major auctions featuring state-of-the-art manufacturing, packaging, lab, and pilot plant equipment from Nesher's Bridgeton, MO facility! The auction will take place July 13-14, 2022.
Sale Information:
Location: Bridgeton, MO
Sale Held In Conjunction With: Heritage Global Partners, Keith Machinery, and New Mill Capital
Bid Online: July 13-14, 2022
Preview: By Appointment Only
Sale Conducted In: $USD / 18% Buyers Premium
Contact: Adam Covitt: adam@fedequip.com – 216.536.0312
Laboratory & Facility Offering Includes:
(12) Agilent 1260 HPLC Systems
(2) Agilent 7890B GC Systems
Fitzpatrick D6 Fitzmill
(4) Hanson Research SR8 Plus Dissolution Testers
PerkinElmer AutoSystem GC w/ Headspace Sampler
(2) PerkinElmer Series 200 HPLC Systems
(4) Tote Systems Totes
(2) Varian GC Units
Thermo Fisher Nicolet iS50 FT-IR Spectrometer
Beckman Coulter Allegra X-12 Centrifuge
Buchi R-200 Rotavapor
(2) Teledyne TekMar HT3 Static and Dynamic Headspace System
(2) Atlas Copco Air Dryer Units
(3) Waters 2695D HPLC Systems
(2) Ultrapure USP Water Purifier Systems
Balances & Scales
Pallet Racking
Assorted Lab Equipment and Consumables
Laboratory Furniture
And More!