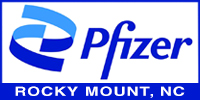 Don't miss our upcoming auction featuring quality processing, packaging, and support equipment from Pfizer's Rocky Mount, NC location! The auction will take place November 9-10, 2021.
Sale Information:
Location: Rocky Mount, NC
Sale Held In Conjunction With: Heritage Global Partners
Bid Online: November 9-10, 2021
Preview: By Appointment Only
Sale Conducted In: $USD / 18% Buyers Premium
Contact: Adam Covitt: 216.536.0312 | adam@fedequip.com
Asset Highlights:
(4) New Jersey Machine 350SLTH Thorobred Labelers
Nikka Densok Limited Pinhole Inspection Machine HDR-4AS + DL
Elliott Manufacturing Side Seal Carton Machine
Stork Texwrap 1810EH 2-Belt Automatic Side Sealer
(2) ESAI Machinery AIM-587-2 Automatic Inspection Machines
Sancoa VR-1000L Labeling Machine
(2) Dabrico Vial Integrity Testers
Newman CTE 350 Automatic Labeling Machine
Wexxar AFS-77 Case Forming Machine
Large amount of Loaders, Feeders, Conveyors, and Tape Machines
Large amount of Solution Tanks
And More!