Don't miss our upcoming auction featuring facility support assets from a former pharmaceutical company's headquarters! The auction will take place May 11-12, 2022.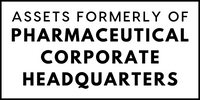 Sale Information:
Location: Bridgeton, MO
Sale Held In Conjunction With: Heritage Global Partners, Keith Machinery, and New Mill Capital
Bid Online: May 11-12, 2022
Preview: By Appointment Only
Sale Conducted In: $USD / 18% Buyers Premium
Contact: Adam Covitt: adam@fedequip.com – 216.536.0312
Asset Highlights:
(2) Cleaver-Brooks CB-700-400-015 Natural Gas Fired Boiler
Fulton VMP130 Natural Gas Fired Vertical Multi-Port Boiler
Atlas Copco ZR75 Air Compressor
(2) Quincy QITD0400 Air Compressor
Mueller F SS Tank
Ultra Pure ALPH MAXT Water Purification System
Donaldson DF03-12 Torit Dust Collection System
American Vacuum Company TST-615PL Central Vacuum System
Hytrol Carousel Roller Conveyor System Parts
(25) York Solutions HVAC Units
(2) Ecowater Systems Water Purifying Tank
(2) Emerson AR47 Motor
And More!