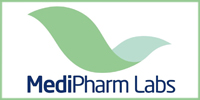 Don't miss our upcoming auction featuring late-model and unused pharmaceutical and cannabis equipment from MediPharm Labs! The auction will take place June 24-25, 2021.
Sale Information:
Location: Barrie, Ontario, Canada
Sale Held In Conjunction With: Heritage Global Partners and Proxio Group
Bid Online: June 24-25, 2021
Preview: By Appointment Only
Sale Conducted In: $USD / 18% Buyers Premium
Contact: Adam Covitt: 216.536.0312 | adam@fedequip.com
Asset Highlights:
Complete Technopar SGL 207 Softgel Line
Advanced Extraction Systems Heating Tank, Extractor Basket Tamper & Extractor
RW Hartnett Delta STD Capsule Printer
(2) NJM Unisort 32 Bottle Unscrambler
Ross Lab Type Titanium Dioxide Dispenser
Fritsch Pulverisette 19 Universal Cutting Mill
(3) Model AES 101 Filtration Funnels
(2) Axon EZ-24-SRB3 Auto Heat Shrinkable Sleeves
(6) Agronomic Air Handling Units
(3) Lauda VarioCool Circulation Chillers
And More!