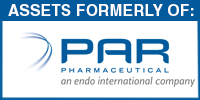 Don't miss our upcoming auction featuring quality lab equipment and pilot plant manufacturing assets surplus to Par Pharmaceutical's Irvine site! Assets relocated to Hayward, CA and Cleveland, OH. The auction will take place June 29-30, 2021.
Sale Information:
Location: Assets relocated to Hayward, CA and Cleveland, OH
Sale Held In Conjunction With: Heritage Global Partners, CRG, and PPL Group
Bid Online: June 29-30, 2021
Preview: By Appointment Only
Sale Conducted In: $USD / 18% Buyers Premium
Contact: Adam Covitt: 216.536.0312 | adam@fedequip.com
Pilot Plant Equipment Highlights:
Glatt GPCG 5 Pro Fluid Bed Dryer (W/ Wurster & Top Spray)
Vector GMX 150 High Shear Granulator
Vector GMX 10 High Shear Granulator
Vector TFC 220 Roller Compactor
Fitzpatrick M5A Fitzmill
Thomas XR Compulab Coater (36", 24" & 19" Pans)
Sweco 24" Sanitary Screener
Lab Equipment Highlights:
6 Agilent 1200 Series HPLC Systems
4 Agilent 6890/7809 GC Systems
7 Waters HPLC Systems
12 Agilent Dissolution UV-Online Spectrophotometer
Thermo Electron Nicolet 380 FTIR
& More!