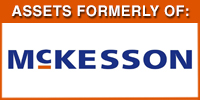 Don't miss our upcoming auction featuring pharmaceutical packaging and process equipment formerly of McKesson RxPak. The auction will take place from July 7-9, 2020.
Auction Links:
Auction Information:
Location: Memphis, TN
Sale Held In Conjunction With: Heritage Global Partners
Bid Online: July 7-9, 2020
Preview: By Appointment Only
Sale Conducted In: $USD / 18% Buyers Premium
Auction Contact:
Asset Highlights:
Uhlmann E3025 Stretch-Bander
Uhlmann UPS 4 ETX Thermoforming Blister Machine
Uhlmann B1240 Thermoforming Blister Machine
Uhlmann C2205 Cartoner
Uhlmann C2206 Cartoner
Uhlmann C2155 Cartoner
BellatRX RXFP Tablet Counter
Diagraph LA/4700 Label Applicator
DT Kalish 7440 Bottle Unscrambler
Eatsey ET1610-36 Shrink Tunnel
Econocorp 9716 Cartoner
Fargo Automation 500D-1000 Blister Accumulator
Garvens S2 Checkweigher
Graphic Packaging Onsert and Outserter
MS Machine PHS Lidding Machine
MGS Eclipse Cartoner
Nenotech RSWT 3015 Shrink Warp Bumbper
NJM/CLI AROLVP4-S0001 Capper
& More!