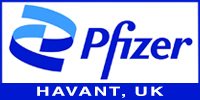 Don't miss our upcoming auction featuring state-of-the-art process and packaging equipment from Pfizer's facility in Havant, United Kingdom. The auction will take place March 10-11, 2021.
Sale Information:
Location: Havant, United Kingdom
Sale Held In Conjunction With: Heritage Global Partners
Bid Online: March 10-11, 2021
Preview: By Appointment Only
Sale Conducted In: $USD / 18% Buyers Premium / 20% VAT (Sales Tax)
Contact: Adam Covitt: 216.536.0312 | adam@fedequip.com
Asset Highlights:
Junghenheinrich Electric Order Picker
Junghrnhrinrich Electric Forklift Truck
Corima De-Nester
Corima Syringe Labeler
Farcon Thermoformer
Marchesini Cartoner
Marchesini Case Packer/Palletizer
Garvens Checkweigher
Garvens XMV Carton Conveyor/Printer
Neri VTE Labeler
Bridgeport Vertical Milling Machine
Colchester Triumph Center Lathe
Capital Compactor/Bailer
FG Wilson 275 KVA Diesel Generator
FG Wilson 600 KVA Diesel Generator
FG Wilson 200 KVA Diesel Generator
Genie Scissor Lift
Work Benches
Commercial Washing and Drying Machines
Weighing Scales
Electric Drills
Assorted Hand Tools
Pallet Trucks
Stainless Steel Tables
Professional Cafeteria Ovens
Professional Cafeteria Refrigerators
Flat Screen Monitors
Fire Proof Cabinets and Safes

And Much More!