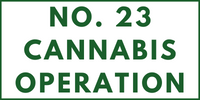 Don't miss our upcoming auction featuring quality cannabis production equipment surplus to the future needs and no longer required by No. 23 Cannabis. The auction will take place July 19-20, 2022.
View Catalog Register To Bid – Coming Soon!
Sale Information:
Sale Held In Conjunction With: Heritage Global Partners
Bid Online: July 19-20, 2022
Preview: By Appointment Only
Sale Conducted In: $USD / 18% Buyers Premium
Contact: Adam Covitt: 216.536.0312 | adam@fedequip.com
Key Assets:
PE PE120 Butane Extraction System
Delta C.U.P 15 Ethanol Extraction System
Precision PXP40 Solvent Tank
(4) Precision Julabo Chillers
Precision Wiped Film CDU
Centurion Gladiator Pro Trimming Machine
(2) Heidolph 20L Rotary Evaporators
(3) Summit Advanced 20L Roto + 5L SPD Pro Rotary Evaporators
(2) Summit Advanced 50L Roto + 5L SPD Pro Rotary Evaporators
Summit Short Path Distillation System
(2) Precision 50L Reactors
Cascade Vacuum Oven
(2) Convectium Cartridge Filling Machine
Futurola PreRoll Filling Machine
And More!