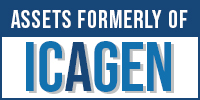 Don't miss our upcoming auction featuring state-of-the-art and late-model biopharma lab equipment formerly of Icagen. The auction will take place January 12-14, 2021. View asset highlights and photos of equipment below.
Sale Information:
Location: Oro Valley, AZ
Sale Held In Conjunction With: Heritage Global Partners
Bid Online: January 12-14, 2021
Preview: By Appointment Only
Sale Conducted In: $USD / 18% Buyers Premium
Contact: Adam Covitt: 216.536.0312 | adam@fedequip.com
Asset Highlights:
HPLC's, UPLC's and Mass Specs:
Shimadzu Nexera UFLC with AB Sciex 4000 Q Trap Mass Spec
(3) Agilent G210 TOF Mass Specs with 1200 HPLC
Thermo Scientific TSQ Quantum Mass Spec with Shimadzu HPLC
Agilent 6150 Quadrupole Mass Spec with 1200 HPLC
Agilent 6120 Quadrupole Mass Spec Technologies with 1200 HPLC
Thermo Scientific TSQ Mass Spec with Thermo Ultimate 3000 HPLC
Thermo LCQ Advantage Max Mass Spec
Bruker Daltronics micrOTOF
Also Featuring:
Bruker 600 UltraShield NMR
Bruker 300 UltraShield NMR
Nexus Universal LabStore
VirTis SP Scientific Genesis 25EL Lyophilizer
VirTis Genesis Lyophilizer
(5) Tecan Freedom Evo liquid Handlers
HighRes Robotics LidValet 2 Position Robot
(5) Beckman Coulter Biomek FX Liquid Handlers
Hamilton Liquid Handler
Protein Technologies Tribute Peptide Synthesizer
& More!